Working for Fund Shareholders on Capitol Hill
ICI's Government Affairs team has a long history of working on Capitol Hill to advance the interests of registered funds and their shareholders—and the Institute's political action committee (ICI PAC) is a major part of that effort. Since 1985, ICI PAC has worked to increase awareness among key lawmakers of fund-related issues, and to enable members to pool resources and to speak with one voice in the political arena.
Over the past year, the COVID-19 crisis compelled the fund industry to transform its approach to doing business. But ICI PAC evolved right along with it, becoming one of the first PACs to launch a virtual fundraising program. This swift evolution enabled ICI PAC to continue supporting the campaigns of lawmakers who demonstrate an interest in public policies that could affect registered funds and their shareholders , and building relationships with lawmakers who work closely on financial services issues.
Employees of ICI member companies can continue to support elected officials through ICI's political program by:
contributing directly to ICI PAC;
participating in fundraisers for individual candidates hosted by ICI PAC; or
contributing to lawmakers recommended by the Chairman's Council, which governs ICI PAC.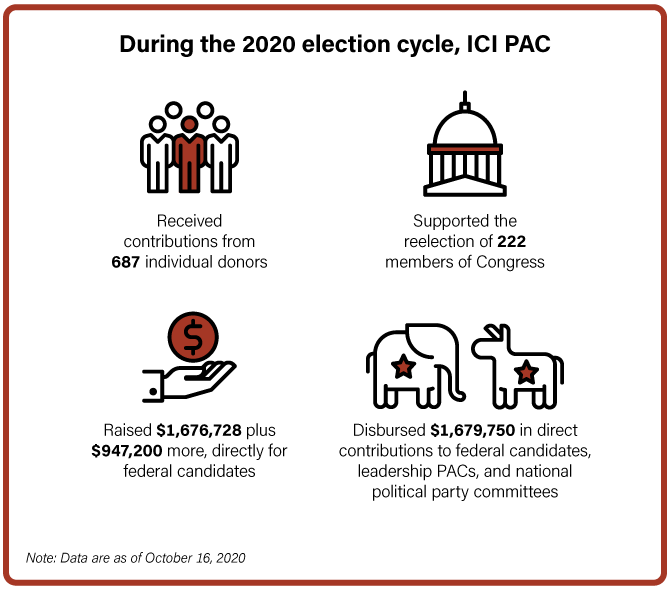 Thanks to contributions from employees of member companies and ICI staff, ICI's political program raised nearly $1.7 million during the 2020 election cycle, supporting the reelection of more than 220 lawmakers on both sides of the aisle. Many of these lawmakers serve in key positions on committees with primary jurisdiction over the fund industry.
Upper left: Rep. Gregory Meeks (D-NY), a member of the House Committee on Financial Services, speaks with ICI Chief Operating Officer Don Auerbach at an ICI event held in the representative's honor.
Upper right: Attendees hear from Sen. Thom Tillis (R-NC), a member of the Senate Committee on Banking, Housing, and Urban Affairs, at an ICI event.
Bottom left: Sen. Rob Portman (R-OH), a member of the Senate Joint Economic Committee, greets guests at an ICI luncheon.
Bottom right: Sen. Mark Warner (D-VA), a member of the Senate Committee on Banking, Housing, and Urban Affairs, speaks with ICI President and CEO Paul Schott Stevens at an ICI event held in the senator's honor.